Intensive Course of Serbian Language and Culture
Summer School Program
časovi, druženje, zabava, igre, ples, posete, ekskurzije
The Serbonika Summer Course consists of two main parts:
1) Serbian Language Lessons
Language lessons are held Monday to Friday from 10 AM to 1:30 PM. They include general Serbian language learning, grammar and vocabulary practice, didactic games, speaking practice, and debates.
The lessons are planned in coordination with the out-of-classroom activities, in order to prepare you so you can get the most of them. In the lessons we will talk about the real-life experiences you're having and help you learn the most important vocabulary of the topic. In that way you will be prepared to follow the conversations or speech, and understand or interact better.
Monday to Friday schedule of classroom lessons:
10-11:30 language lessons
15 minutes coffee break
11:45-13:15 language lessons
Fruška gora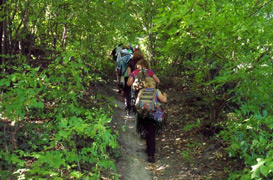 Fruška gora is a mountain, a national park and a popular destination for field trips and hiking. Known for the magnificent forest, impressive vineyards and 17 monasteries built from 15-18th century. You'll go on a tour with your teacher as a guide, with all the information needed.
SALAŠ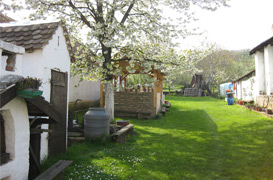 Salaš is an old-style farm popular in the region. Nowadays many have been transformed to restaurants, preserving the ambience that reminds of the past. You can see old houses and farming equipment there, and taste locally-produced food with traditional recepies.
KOLO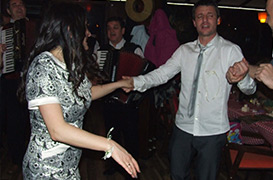 Kolo is a traditional group dance that continues to live among the people. If you go to any kind of Serbian celebration or festival, you will get a chance to show your footwork. You will learn the basic steps in our Summer course and get a chance to dance them in real life.
2) Out-of-Classroom Activities
The afternoon and weekend out-of-classroom activities will give you plenty of opportunities to listen to different native speakers and use the language in real-life situations, with assistance when needed.
You'll get the chance to recognize the structures and words you've learned in class as you hear them in real conversations, and to use them in a different context yourself.
The out-of-classroom activities include walks, field trips, visits to restaurants, kolo dancing lessons, museum visits and tour guides, and above all speaking Serbian and listening to spoken Serbian in its natural context.
ROŠTILJ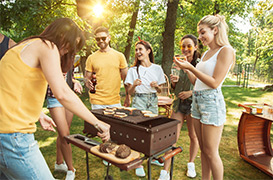 Barbecuing is a very popular weekend activity in Serbia. You will try our home-baked hamburgers (pljeskavice) and kebabs (ćevapi), grilled in our backyard.
KAZAN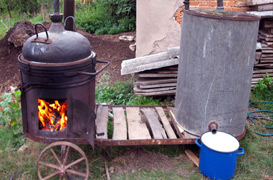 This equipment is used for brewing home-made fruit brandy. You will get a chance to see this beauty in action, taste it's product and take a bottle with you when you leave.
KOTLIĆ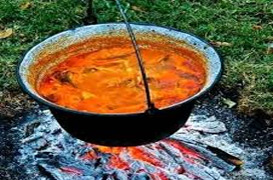 Along with barbecue, cauldron is another popular dish coocked outside. It can be a fish soup or a goulash. It takes a few friends and hours to make it.
General plan of the out-of-classroom activities
Arrival and accommodation
Recommended arrival day is Saturday or early Sunday. The welcoming party on Sunday is something you don't want to miss. 🙂
Sunday
Welcoming party. Welcoming guests, socializing and feasting at the Jelić family house, chatting and getting to know each other in an informal setting, before the lessons start.
Monday

Dobro došli u Mitrovicu!  A welcoming tour around the town. An afternoon walk around the town, looking around and learning about the most important places.

Tuesday
Music: Serbian music and dancing lessons
Wednesday
Museum of Srem: Talk about the history of the region. Conversation with the historians at the museum and a walk around the town.
Thursday
Music: Serbian music and dancing lessons
Friday
Arts and crafts: Traditional arts and crafts demonstration. Meeting local artists and painters.
Saturday
Excursion: Fruška Gora mountain, Sremski Karlovci, Petrovaradin
Sunday
Walking around the town and relaxing. Optional pool or spa day.

Kafana or salaš night: dancing and music in real life.
| | |
| --- | --- |
| Monday | The City Library: Conversation about literature. Creative workshop and language games. |
| Tuesday | Music: Serbian music and dancing lessons |
| Wednesday | Ancient Sirmium: Roman City Tour. The Imperial Palace and other Roman relics. History lesson and discussion with the Museum of Srem staff. |
| Thursday | Music: Serbian music and dancing lessons |
| Friday | The Lazar Vozarević Gallery. Conversation about Serbian paintings and art. Creative workshop and language games. |
| Saturday | Excursion: Forest, Art galleries at Šid, Monastery, Winery |
| Sunday | Finishing party: Barbecuing or cauldron-cooking at the Jelić family house, live music with guitars by the fire, possibly also rakija-brewing day. |
When planning your trip back, please note that the final party on Sunday is the culmination point of the course. We've became friends by then and the fun with fire and live music is guaranteed! You can plan to leave on Sunday, but staying one more night and leaving the trip for Monday is probably a better idea.
Please note that the plan and schedule are subject to change if need be.
Don't forget!
When packing your suitcase, in addition to all your personal necessities, please consider our suggestions:
PASOŠ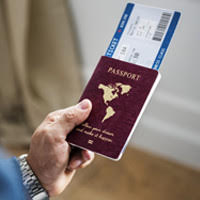 You must have your passport (pasoš) with you. Please, also make sure to get latest information from your embassy in Serbia, or Serbian embassy in your country, regarding Covid travel requirements.
KUPAĆI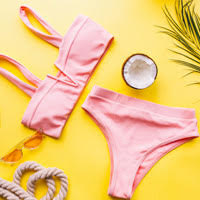 Pack your bathing suit (kupaći kostim)! You can enjoy sunbathing by the Sava river, or swimming in the indoor swimming pool at the city center, or bathing in a termal spa center in a village nearby.
DŽEMPER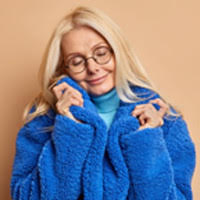 The continental climate can have warm days and chilly nights. In any season, make sure to get both light and warm clothes, a jacket or a sweater (džemper). But even if you forget anything, you can shop here.
PATIKE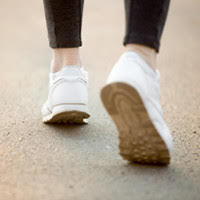 Bring your comfortable sneekers (patike)! Get ready for city walks and short mountain hikes, as well as backyard activities. If you also want to dress up for a night out, pack some nice outfit as well.
the registration form
Serbonika Summer School 2022
In case the form doesn't work for any reason, please apply directly by answering the questions in an email sent to magdalena (at) serbonika.com – thank you!