Letnja škola srpskog jezika i tradicije
Serbonika Summer School
Serbonika Summer School are two two-week courses in Sremska Mitrovica including: Serbian language lessons held every day, culture classes, traditional dance lessons, visits and excursions.
You will study Serbian in a small group (no more than 8 students) so you can be actively involved all the time and get personal approach.
If you're coming to us directly from the airport "Nikola Tesla", we can come to welcome you and take you to your accommodation. 
Where?
Sremska Mitrovica
Vojvodina, Srbija
When?
Aug, 15-28 2021
Sept, 12-25 2021
How to Apply?
Fill in the application form
by July 5 2021
SUMMER SCHOOL PROGRAM
The program includes guided visits to museums, restaurants, parks, the Sava beach, or fieldtrips on the weekend; and home activities at the Jelić family house, cooking, grilling, or just hanging out.
We can only accept a small number of people and the program is very personal: you will be our guest!
This program of 2 weeks includes:
3 hours (4 school classes) of classroom language lessons 5 days a week, from Monday to Friday
2 hours of afternoon activities (visits to archeological sites, lectures and kolo dancing lessons)
teaching materials, information booklets, classroom facilities, refreshments
full access to the Serbonika learning platform for one month before the summer school starts
assistance with finding accommodation and getting around the town
a welcome and transfer from the bus or train station in Sremska Mitrovica to your accommodation
guided excursion to the Fruška Gora mountain, visit to some of the monasteries
Serbian hospitality that continues informally in the extracurricular activities
finishing party with live music
Detailed program available at request soon.
Pricing and Admission
1) August, 15-28 2021 – reserve your place: 6 left available
price of the program: 469€
admission: by July 5th 2021
2) September, 12-25 2021 – reserve your place: only 3 left available
price of the program: 469€
admission: by July 5th 2021
Not included in the course price: travelling to and from Sremska Mitrovica, visa (if necessary), personal expenses, accommodation and meals.
Transfer from and to airport available at request.
SREMSKA MITROVICA
Sremska Mitrovica is a small town in the North Serbia, the capital of the Srem district. It was a major city in Ancient Rome named Sirmium.
It's located at the Sava River, near the Croatian and Bosnian border, by the Fruška Gora Mountain. An hour by bus or train to Belgrade and an hour by bus to Novi Sad.
Prices are very convenient: full meals at about 4€, you can get anywhere by taxi at 1.5 or 2€, etc.
Perfect for a peaceful Serbian retreat. Watch a video of the city.
Sremska Mitrovica at David's Been Here.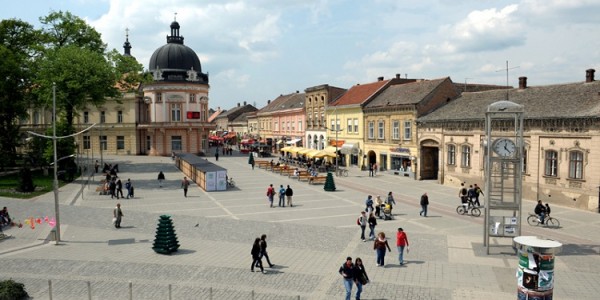 ACCOMODATION OPTIONS
The Summer School daily activities and lessons are the city center. There are different options for renting apartments. If you prefer, you can find your own accommodation at Airbnb or Booking, but we've got special prices for four places that we recommend.
If you wish, you can come earlier and you can extend your stay, at your pleasure.
But to get the discounted price, rooms must be booked by July 5th 2021.
1) Apartments 10 minutes from the very center
We've got special offer at these two places, 10-minute walk to the city center and our classroom. Prices for 14 nights:
Studio Marija (with one bedroom) – one person in the apartment € 210, two people 280€
Apartman Marija (with two bedrooms) – one person in the apartment 210€, two people 350€
Places are very limited: 6 spots left for august. Reserve your room now!
2) Accommodation at the City center
We got special price at 25€ per night with the best apartments in the very center of the town:
Apartments are fully equipped, with a king bed, a kitchen, clean towels and bedding.
Places are very limited: 3 spots left for September. Reserve your room now!
the registration form
Serbonika Summer School 2021
In case the form doesn't work for any reason, please apply directly by answering the questions in an email sent to magdalena (at) serbonika.com – thank you!