ČASOVI SRPSKOG JEZIKA U MINI GRUPI SA PROFESOROM
Grupni časovi srpskog
Grupni časovi srpskog jezika na internetu
Da li dobro funkcionišete u maloj grupi ljudi koji imaju isti cilj?
Ljudi koji vole da pomažu drugima i da motivišu druge jako su uspešni u takvim uslovima. Osim toga, učenje u maloj grupi se pokazalo kao verovatno najbolja forma učenja stranog jezika, pa to važi i za srpski.
Ljudi obično uče srpski da bi mogli da komuniciraju. Mala grupa je najbolje mesto za to. Na našim časovima srpskog, ljudi imaju bezbedno mesto da vežbaju konverzaciju.
Samostalno učenje može biti teško. Mnogo toga vam može stati na put, čak i ako je vaša motivacija snažna.
Kada ste član male grupe koju vodi profesor, grupa će vas motivisati i pomoći vam da napredujete i da neprestano učite u dobrom ritmu.
Zašto Serbonika?
✔️ Male grupe od 3 do 5 učenika

Iskustvo je pokazalo da je to optimalan broj za onlajn grupu tako da svako može aktivno da učestvuje. Učenici se spajaju u grupe u zavisnosti od vremena, nivoa i sposobnosti.
✔️ Časovi srpskog jezika dva puta nedeljno
Časovi srpskog u mini grupi sa jednim od Serbonikinih profesora će vam pomoći da dovedete svoj srpski na sledeću stepenicu za 3 meseca (dva časa nedeljno) ili 6 meseci (jedan čas nedeljno). Svaki čas traje 60 minuta. Profesor će vam pokazati put, ohrabriti vas da govorite i da komunicirate na srpskom sa drugim članovima grupe.
✔️ Moćna platforma
Naši časovi srpskog su podržani našim sistemom za učenje. Dobijate neograničeno vreme za vežbanje na Serbonikinoj platformi sa neposrednom povratnom informacijom. Možete da učite kada vam odgovara i uz podršku vašeg profesora.
✔️ Stalna podrška
Imaćete podršku posle časa i profesor će vam pregledati domaći. Uvek možete da postavite dodatna pitanja ako negde zapnete. Ali takođe možete da komunicirate sa drugim članovima grupe. Grupa se može sastajati i izvan zakazanih časova. Možete zajedno raditi domaći zadatak ili razgovarati, po vašoj želji.
✔️ Pričajte srpski od početka
Serbonikina metoda vas podstiče da pričate od početka. Gramatika se vežba kroz komunikaciju. Dobićete i bezbroj vežbi da sami uvežbavate gramatiku, tako da na času možete što više da vežbate govor.
✔️ Uverenje o završenom kursu
Kada uspešno završite kurs, dobićete Serbonikino digitalno Uverenje o završenom kursu i moći ćete pređete na sledeći nivo.
Pridružite nam se! Hajde da zajedno učimo i podržimo jedni druge u našoj avanturi sa srpskim jezikom!

Šta naši učenici kažu o nama
Trajanje
A1.1    –   24 časa
A1.2   –   24 časa
A2.1   –  24 časa
A2.2   –  24 časa
Svaki polunivo sastoji se od 24 časa, koji se mogu završiti za tri meseca dva puta nedeljno, ili za šest meseci jednom nedeljno.
Vreme
Beograd: 10,  12,  16,  18
Njujork:    4,    6,   10,   12
Los Anđeles: 1,    3,     7,    9
Sidnej:      18,   20,   24,   2
zimi           20,   22,    2,   4
Upis
Redovan upis:
Januar, Maj, Avgust
Grupa počinje sa radom čim se prijavi 4 ljudi. Nove grupe se stalno formiraju, prijavite se!
Rani upis nam pomaže da organizujemo grupe. Molimo vas da se prijavite na vreme. Hvala vam!
Cena kursa

411

€

uključuje:
– Članstvo na Serboniki tokom trajanja kursa
– 24 časa preko Skajpa ili Zuma (1 sat dva puta nedeljno)
– podršku posle časa i fidbek o domaćem zadatku
– neograničenu komunikaciju sa kolegama iz grupe
Moguće plaćanje u tri mesečne rate od 137€.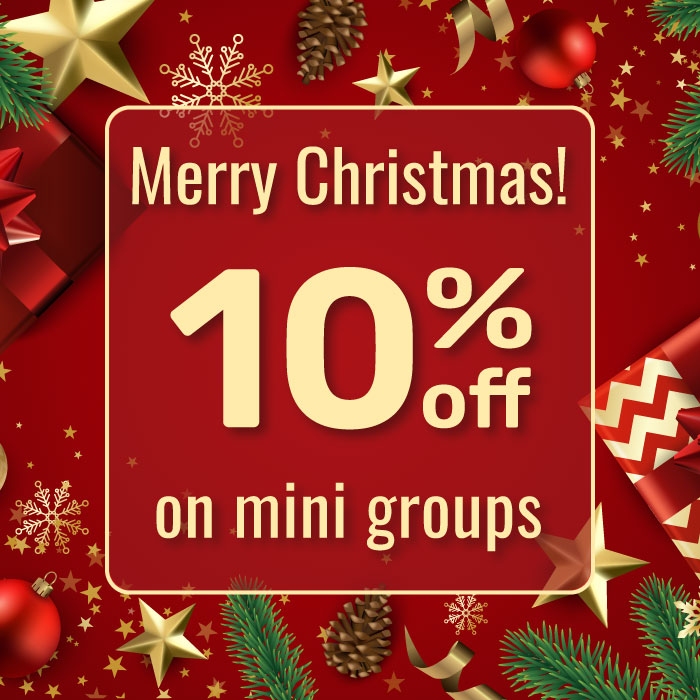 *BOŽIĆNA SPECIJALNA PONUDA*
Srećan Božić!!
Poklonite sebi tromesečni kurs počeviši od januara, i progovorite srpski do proleća!
Prijavite se do 23. decembra i dobićete 10% popusta za prvi mesec ili za uplatu tromesečnog kursa u celosti! Snižena cena za ceo kurs je 370€ a za jedan mesec 123€. Popust se primenjuje samo na prvu uplatu.
Božićna ponuda važi samo za upis u mini grupe do 23. decembra. Ponuda se primenjuje samo za prijave do ponoći 23. decembra 2022. po beogradskom vremenu.
Popusti se ne sabiraju. Kod za popust se može upotrebiti samo jednom.
Mesta ograničena!
Plaćanje iz inostranstva: PayPal, Visa, MasterCard, Maestro, Western Union
Plaćanje u Srbiji: lokalna uplata u dinarima, Visa, MasterCard, Maestro, Dina Card 
ODRICANJE ODGOVORNOSTI
Tačan broj časova potrebnih da se završi jedan nivo zavisi od svake grupe i svakog studenta individualno. Nekim učenicima može trebati više vremena da u potpunosti završe jedan nivo.
Ipak, svako je sposoban da završi polunivo za tri meseca, ako redovno dolazi na časove i radi domaće zadatke.
Formular za upis
Časovi srpskog u mini grupi
Ako formular za prijavu iz nekog razloga ne radi, molimo vas da se prijavite direktno. Pošaljite svoje odgovore na sva ova pitanja na adresu admin (at) serbonika.com – hvala vam puno!